---
Velkommen!
Important news from District SuperSix
---
District Six Nominating Committee ready for application for 2018 – 2020 District Officers.

---
Camp Norge Closed until further notice.
"The Good News and…the Bad News!!!"
"Fueled by an atmospheric river that funneled a vast amount of moisture into Northern California, the severe winter storms that hit last month caused countywide damage. Perhaps the most prominent is the culvert failure and washout of Morton Road in Alta. The incident isolated 15 homes (and Camp Norge). An alternative access was established, however it traverses a steep, windy gravel road over private property." Placer County newspaper The picture to the left is where the road used to be and you can see the depth of the washout. This was a major event!
The county expects to put out the bid, to build a permanent bridge over the washout, in mid-February and "hopes" to complete construction by the end of June 2017. They have $3 million to complete the project. So—-can we expect access to Camp Norge by the end of June? We don't really know and we won't know until the project is complete, to be completely honest and realistic.
As of now, we are cancelling all activities, including Camps Trollfjell/Trollfjell Folkehøgskule, scheduled through the end of July. With this natural disaster occurring, there will be no revenue for Camp during these months. Therefore, our Caretaker has graciously agreed to resign from his position and leave the Camp. The Camp will remain closed to any visitors, whether Sons of Norway members or not, until this road repair is completed.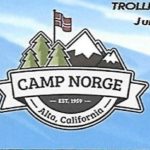 The Recreation Center Board of Directors has met over this issue and the Camps Trollfjell's Administrative Committee has had conversations. The Camp is financially prepared to be closed at this time. However, there are always ongoing expenses that must be met. Any Lodges or Sons of Norway members who wish to contribute to Camp Norge expenses are encouraged to do so. We will also be applying for a "Helping Hands to Members" Grant through the Sons of Norway Foundation to aid in this disaster.
Thank you all for your patience and understanding. We are looking forward to the opportunity to turn this "lemon into lemonade" and reopen later this year with great programs and activities, especially Hardanger Camp in August, Northern California Kretsstevne over Labor Day weekend and Rosemaling in October!! We'll keep you posted!
Fraternally,
Mary Beth Ingvoldstad
President—District Six
Sons of Norway
email hidden; JavaScript is required
707-580-8052
Also a video on Facebook here.
---