---
Velkommen!
Important news from District SuperSix
---
Good News!
Camp Norge Re-Opening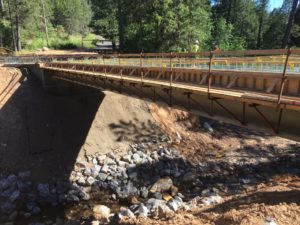 Bridge Construction Completed on Schedule!
Alta, CA, June 22, 2017:  Placer County Department of Public Works announced today that construction on the new Morton Road Bridge over Canyon Creek will be completed very close to on schedule. The bridge will be officially open to the public effective July 1, 2017.
A torrential rainstorm in January washed out the road creating an 80 ft. wide and 40 ft. deep chasm and cut off public access to the Sons of Norway Recreation Center (known as Camp Norge) as well as multiple families living in the area. Only residents and emergency vehicles have been allowed into the area since.
"This is great news!" said Mary Beth Ingvoldstad, President of Sons of Norway District Six, the fraternal organization which owns Camp Norge. "We've had to cancel or postpone hundreds of reservations including our annual children's' camps. We plan to have fun with the ribbon cutting ceremony with lots of Norwegian flags and costumes." said Ingvoldstad. The county plans the ribbon cutting ceremony for July 5th.
Camp Norge, a 46 acre family camp was founded in 1957 by members of the Norwegian cultural heritage group. According to Fred Hymans, President of the Recreation Center Board, the camp itself was not damaged by the storm and will be "more beautiful than ever thanks to all the rainfall" over the winter and spring seasons. "Plans for the annual Kretstevne (family gathering) celebrations are under way as normal" said Hymans. "We hope to see more people than usual this year."
##Contact Fred Hymans, email hidden; JavaScript is required, 916-412-3797 for more information about the camp.
##For camp reservations call (530) 389-2508 or www.campnorge.org
---
District Six Nominating Committee ready for application for 2018 – 2020 District Officers.

Links to related documents:
---