7th Annual Bunad Camp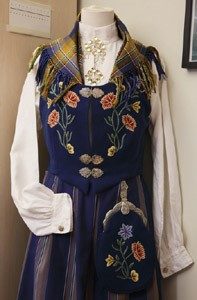 Sons of Norway Recreation Center
Camp Norge
250 Canyon Mine Road, Alta, CA
May 4 – 7, 2018
District 6 Sons of Norway is now accepting applications for our 7th Annual Bunad Camp at Camp Norge.  Sue Sutherland of Bunad Butikken, located in Ely, Minnesota, will be our instructor.Class size is limited to 12.
The cost of the class is $325 for Sons of Norway members and $375 for non-members.  Program cost includes instruction and the rental of Heritage Hall.  Jim Sutherland is offering a meal plan for $60 per person.  Lodging fees at Camp Norge are additional. You are requested to bring your own sewing machine.
Registration deadline is January 1, 2018. One half of the tuition is due at the time of registration to reserve your spot.  This is not refundable after March 1, 2018.  Remainder of tuition is due by April 10, 2018. Please make checks payable to Sons of Norway.
Heritage Hall will be available to students daily from 8:00 am to 8:00 pm
Sue will be available from 9:00 am to 5:00 pm
You are welcome to bring cookies and snacks for coffee breaks!
Do you need a Bunad kit?
Contact Sue Sutherland at (218) 365-7745 for kit information and pricing.
Although she has some Bunad kits in stock, many have to be imported from Norway.
Please allow ample time for her to order needed materials.
Kits for Bunads with embroidery are custom made and must be ordered by November 2017 in order to arrive in time for the class.
ABSOLUTELY NO E-MAIL RESERVATION REQUESTS will be accepted.   Please fully complete the registration form and mail with your deposit (checks payable to Sons of Norway) to:
Judy Immel, Cultural Director
9331 Shannon Avenue
Garden Grove, CA 92841
For questions please contact Judy at email hidden; JavaScript is required
Remember this is a camp; please bring your own bedding, towels, toiletries, cushion for chairs, and don't forget your flashlight!  We look forward to having you join us at Bunad Camp!
Download flyer here.
Download registration form here.
Directions to Camp Norge – here.