Scholarships & Camperships
District Six offers up to three $1000 Academic Scholarships each year to deserving Unge Venner members who are attending any accredited post-secondary schooling or training institution. The District President annually appoints a Scholarship committee to evaluate the applicants and determine the recipients.
District Six offers a $1,000 scholarship for a Heritage or Unge Venner member to attend Skogfjorden Norwegian Language Camp operated by Concordia College in Bemidji, MN. Life at Skogfjorden is infused with Norwegian language and culture from the moment you wake up – participating in small language learning groups, cultural and camp activities, sports, dance, and song – until the close of the day.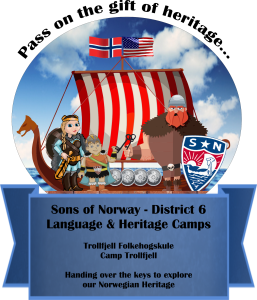 Two 50% cost of tuition Camperships to Camp Folkehøgskule and two 50% cost of tuition Camperships to Camp Trollfjell are available District wide for attendance at Camp Norge's summer camps in the High Sierras between Sacramento, CA and Reno, NV. For more information about Camp Trollfjell and the Folkehøgskule, see the Norske Arv Programmer website here.
2017-2018 Scholarship/Campership Applications
These applications are for the scholarships and camperships only. Please make sure that you are enrolled or registered with the event organizers matching the scholarship or campership for which you are applying.
Click on these links for the on-line applications for Camp Trollfjell or Trollfjell Folkehøgskule.